24. April. 2010

LAN Remote Start
(Run / Quit programs over LAN)
Vers. 1.0
- free for non-comercial use -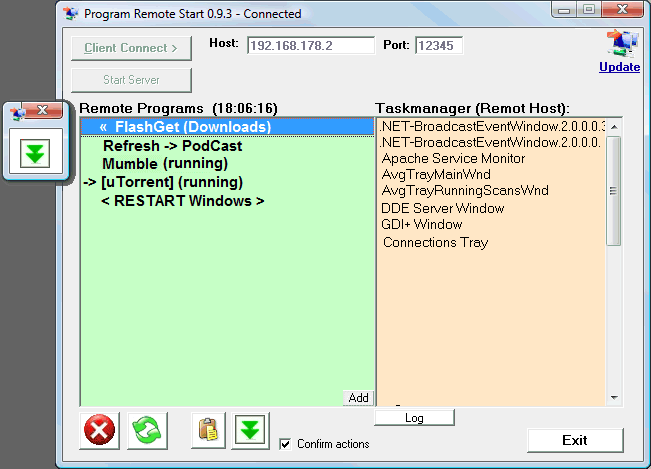 USE OF THIS PROGRAM ON YOUR OWN RISK!!
MAKE SURE YOU SET THE CONNECTION TO ENCRYPTED WHEN USING IT OVER LAN!
Download: RemoteRun.exe (<100 kb)
Mswinsck.ocx is required on Client and Server (registered).
This is a "single-exe" remote-tool to start Bat -Files and Programs or kill processes on a remote windows machine (LAN).
It also includes a Drag&Drop option and a Clipboard-Text - Transfer from the client to the Server.
(You can use the Dag&Drop field like the Drag-Icon of FlashGet, Getright or other Download-Manangers to start the downloads on a remote machine.)
Description:
The Program stores everything in a Ini-file:
The Host keeps a list of Programs which can be started from the clients.
When a client receives the available Programs / commands from the server.
Tasks can be killed from the client, and programs from the list can be started.
Security:
The Program offers an encrypted connection + password authentification.
It also has a simple SPAM / Hack detection (IP blocking).
If you use it over the Internet, you have to know that the encryption is only 128 Bit strong its still a risk!
First Steps:
1. Start the Program on your Server PC and click "Start Server".
2. Press the small "add new >" button and add a program / Bat to the Serverlist.
3. Start the Program on the Client PC, enter IP and Port of the Server and press "Client Connect"